Why Kleena Cleaners?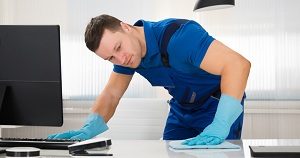 Here at Kleena Cleaners we know the cleanliness of your premises can make your business win or lose customers!
Here are just some reasons to choose Kleena Cleaners:
We offer a full suite of cleaning services – no business too big or too small.
Cleaning specifications are tailored to suit your business' individual requirements.
We can provide cleaning services 7 days a week 24 hours a day.
You will be allocated a designated area manager who will ensure you are provided with solutions that are in the best interest of your business.
We provide monthly cleaning inspections, yearly audits and ongoing reviews.
We can provide competitively priced cleaning products as well as washroom and kitchen supplies.
We can provide all your hygiene, waste management and recycling services.
All our cleaners are carefully selected and fully trained.
All Management and Franchisees have Police Department checks.
About Kleena Cleaners
Kleena Cleaners was established in 1988 by the Grasso family to provide quality cleaning services at reasonable prices.
Initially, the business was a part-time endeavour with duties carried out by members of the Grasso family. This hands on approach and attention to detail was appreciated by each client and the Kleena Cleaners client base quickly grew.
Small businesses were Kleena Cleaners' primary clientele during the early days. These small businesses were able to get great cleaning services at reasonable prices by an honest SA Business, and so Kleena Cleaner's reputation grew. Within a short amount of time Kleena Cleaners was quoting, and winning large commercial cleaning jobs.
Today Kleena Cleaners SA Pty Ltd has a large active administration team, and our chain of franchisees has grown exponentially. Our range of services has grown from General Cleaning Services to large scale Commercial Cleaning, Window Cleaning, Carpet Cleaning, Builders Cleans, Complete Hygiene Services, Washroom Maintenance & Supplies, and more.