We stock a range of cleaning products including washroom and kitchen supplies as well as a range of cleaning chemicals and cleaning equipment. We also stock and install soap, hand towel and toilet paper dispensers.
If the product you require isn't listed we can try and source it for you, just give us a call 8363 4488 or email us.
Hand Towels

ABC Single Fold Interleaved Hand Towels
ABC Style Supremacy Superslim Hand Towels
Fresh Super Trim Interleaved Hand Towels 2ply (compact)
Kleenex Optimum Interleaved Hand Towels
Puresoft Slimeline Interleaved Hand Towels
Regal Large Interleaved Hand Towels
Gentility Large Interleaved 2ply Hand Towel
ABC Style Roll Towel
Premier Kitchen Roll Towel
Scott Roll Towel
Toilet Paper

ABC 2ply 400 Toilet Rolls
ABC Style 2ply Premium Toilet Rolls
ABC 2ply Virgin 700 Toilet Rolls
Tenderly 2ply Toilet Rolls
Quilton 3ply Premium Toilet Rolls
Pearl 3ply Toilet Rolls
Gentility 3ply Toilet Rolls
Softex 1ply Recycled Toilet Rolls
ABC Style 2ply Interleaved Toilet Tissue
Regal 1ply Luxury Interleaved Toilet Tissue
Fresh Jumbo 2ply Toilet Rolls
Trusoft Jumbo 1ply Toilet Rolls
Tork Junior Jumbo 2ply Toilet Rolls
Cleaning Chemicals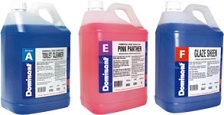 We stock and recommend the following cleaning chemicals. Please click below to view the most recent SDS (Safety data Sheets).
Technical Bulletins
Please click below to view the most recent Technical Bulletins for the chemicals we use and stock.
Enviro Products
Technical Bulletins not currently available.